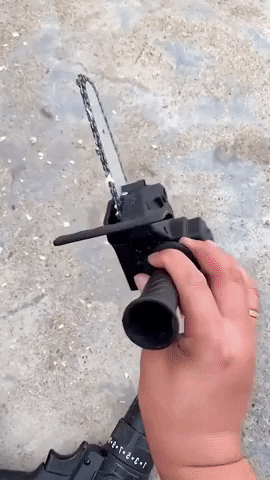 Are you looking for a way to save money and time when it comes to cutting wood? But don't want to carry around that heavy chainsaw, mix gas, or endure that hassle of owning and maintaining a gasoline powered chainsaw?
Then look no further than the electric drill converter!
This incredible device allows you to easily modify your existing electric drill into a powerful and efficient chainsaw.
With its easy-to-use design, you can have your chainsaw up and running in no time at all. Plus, the included auxiliary handle ensures a comfortable and sturdy grip during use.
With its adaptability to 6-13mm three-jaw collet drills, this converter is the perfect choice for anyone looking for an affordable and convenient solution.
So don't wait any longer, order your electric drill converter today!
We have received nothing but great feedback from critics and our customers, we're positive you'll love yours too! 
We offer free shipping on any size of order you make!