STOP DOG BARKING WITHOUT HAVING TO CONFRONT YOUR NEIGHBOR!
Our #1 rated Ultrasonic Anti-Barking Device is the most effective & harmless method of teaching your dog to not bark. It utilizes ultrasonic sounds to gently deter barking. It is also completely adjustable to suit your dog's hearing!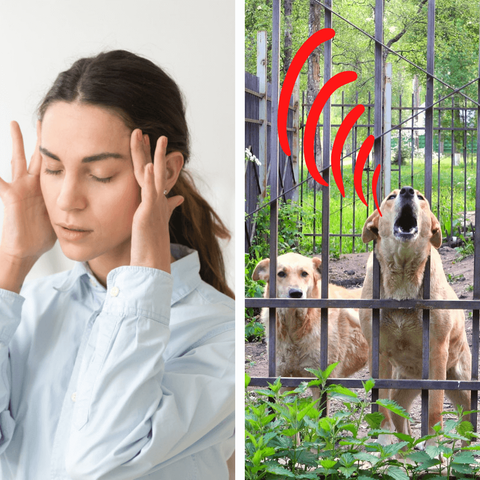 DISCOVER THE BREAKTHROUGH WHY THE DOG INDUSTRY IS CRAZY ABOUT OUR Silencer Anti-Barking!
 ULTRASONIC TECHNOLOGY
✅ Harmless and humane ultrasonic to deter dogs from annoying and aggressive behaviors 
✅ Lightweight and portable handheld device 
✅ Fully Adjustable Ultrasonic Intensities
✅ Works up to 50 feet 
✅ USB rechargeable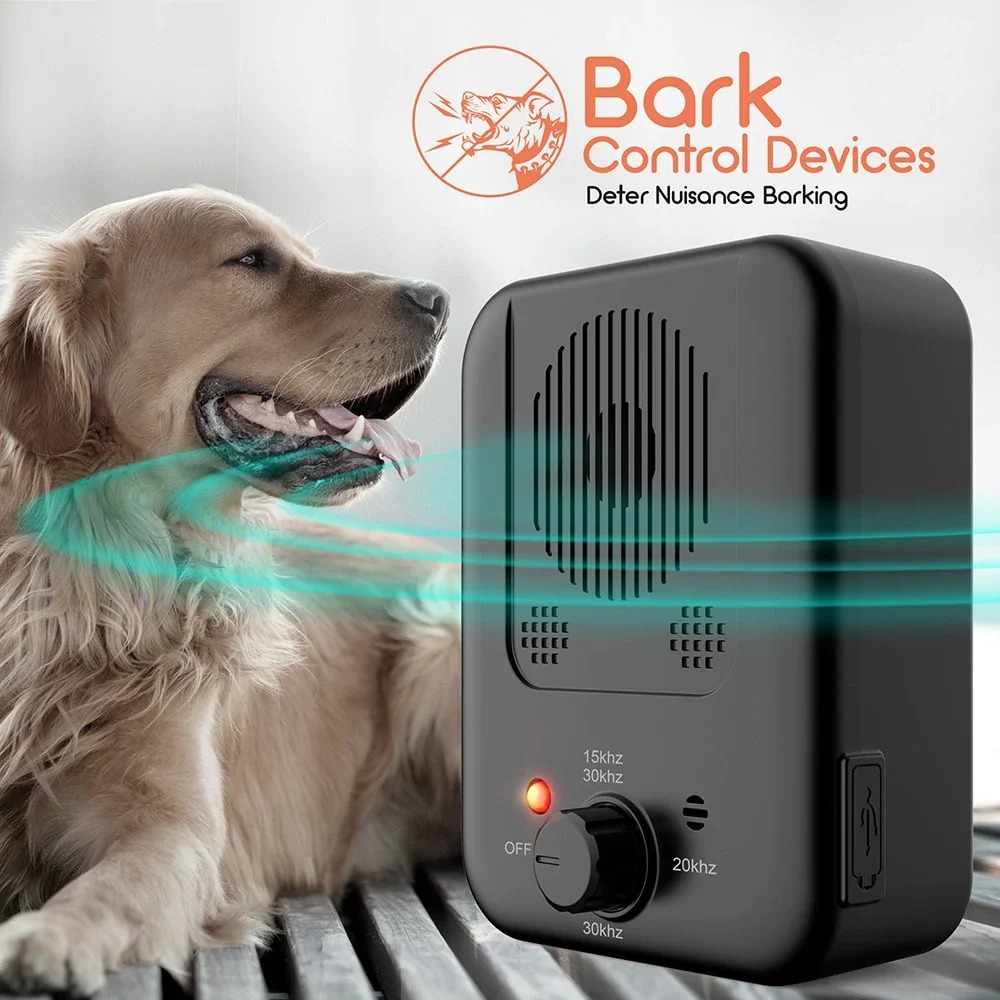 "THE SECRET METHOD TO CONTROL YOUR NEIGHBORS' DOG QUICKLY!"
Imagine a quiet home where you can relax with your own thoughts, watch TV, without crack up the volume, or finally get a good night's sleep.
Thousands of people like you have used our Silencer Ultrasonic Anti-Barking to take back their peace and quiet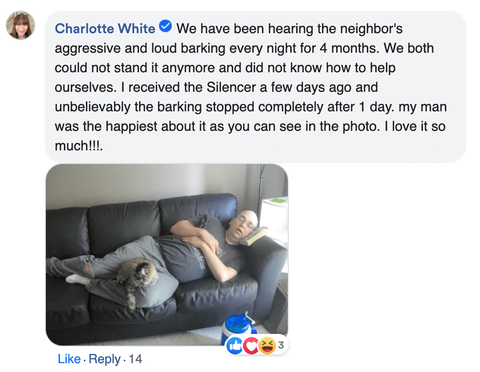 HOW YOUR NEW MAGIC WORK 



Dogs are sometimes stubborn and you can't look for them every second of the day. They bark over little things they see, this sometimes becomes annoying. We know how you feel and that's why our device is made to help people like you!
Whether you want to rest or peacefully work at home, too much dog barking is undeniably disturbing to anyone. You can avoid that by simply installing our device and it'll distract your dogs during their random and annoying noises.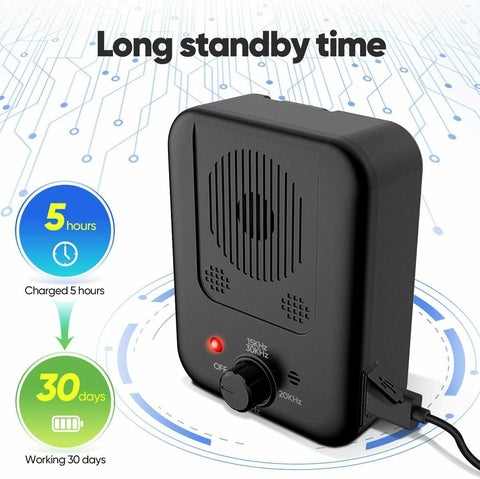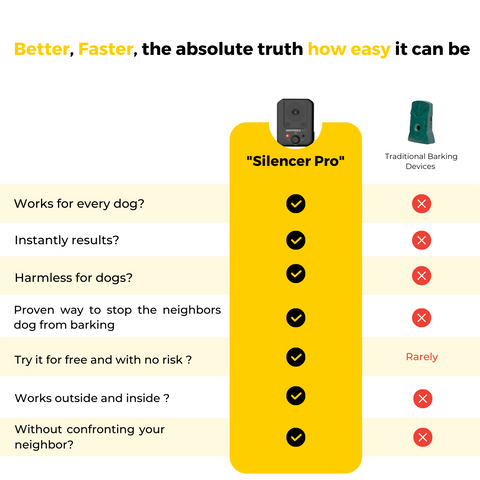 HOW DOES IT WORK?
The Ultrasonic Anti-Barking Device emits a powerful (yet harmless) ultrasonic sound, teaching your dog to associate the annoying sound with disobeying commands to stop barking.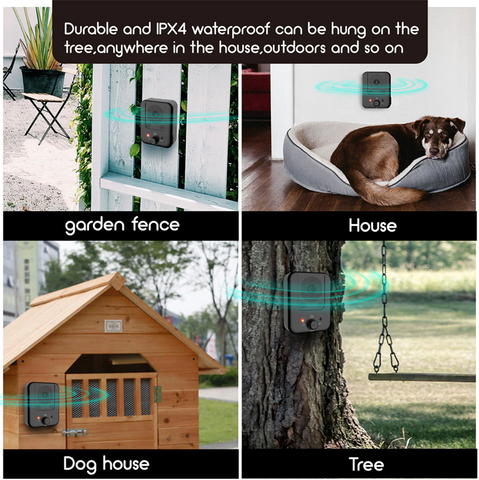 IS THIS SAFE FOR MY DOG?
Unlike many similar products on the market, that shock the dog until they stop barking, our device was specifically made by dog lovers for dog lovers. The ultrasonic sounds are completely harmless and humane and is created for your dog to deter from barking.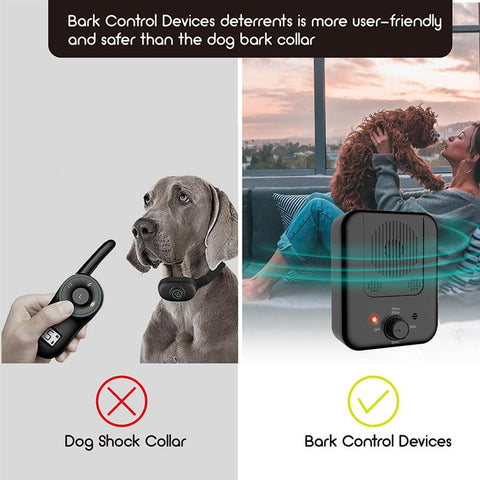 Package included:
1 x Bark Control Device
2 x Mounting Screws and Anchors
1x USB Charging Cable
1 x User Manual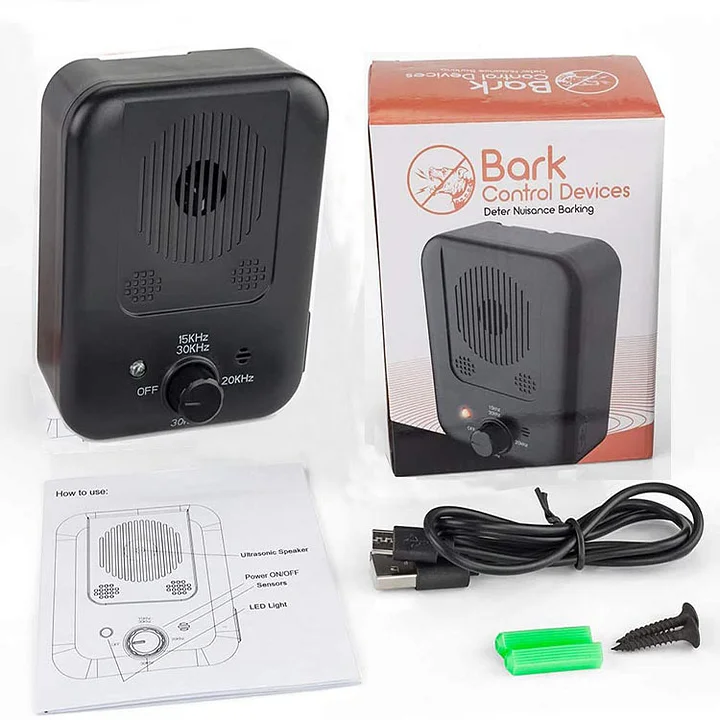 FREQUENTLY ASKED QUESTIONS:
1. Will this harm my dog?
Answer: Very unlikely! The Ultrasonic Anti-Barking Device is specifically engineered to ensure your dog is not hurt through the use of ultrasonic sound. The ultrasonic feature can also be adjusted for the intensity you find most comfortable with.
2. Will this work on my dog?
Answer: This device has proven effective on dogs of all ages and sizes. Whether you're training a new puppy or trying to tame your older dog, this training aid is perfect!
3. Do I need to buy batteries to use this device?
Answer: No! Unlike other cheaply made products on the market, that require batteries to operate, ours is 100% rechargeable with the USB cable to is included in the box.
4. Can this also be used in my yard?
Answer: Yes absolutely, however depending on the size of your yard make sure to adjust the intensity so your dog will be able to hear the ultrasonic sounds.
This Is A Great Gift For yourself or your friend!
Click "ADD TO CART" To Get Yours Now!


OUR GUARANTEE
We truly believe our products have made everlasting impacts all over the world and we fully stand by our products. Because you are the reason why we're here today, we want to give you a risk-free 30-day guarantee for all of your purchases. If you don't have a positive experience for any reason, we will do whatever it takes to make sure you are 100% satisfied with your purchase.
We have 24/7/365 Ticket and Email Support. Please contact us if you need any sort of help or a friend to talk to :)